Long before her fame as a writer began to take hold, Grace Paley was already involved in political activism. From early immersion in supper time family political squabbles, to high school political engagement, later expressed in local politics, Grace became a constant presence in protests against the proliferation of nuclear weapons, the war in Vietnam, U.S. military encroachment in Central America and was a central figure in the peace movement until her death. Age and long periods of illness took their physical toll but did not diminish her spirit. She never gave up on the idea that one person can make a difference.
For decades, Grace Paley was a legendary teacher of creative writing at some of the most prestigious colleges in the country. Though she never finished her own degree she taught at Columbia University, City College of New York, Syracuse and was tenured at Sarah Lawrence College. She was idolized by her students and many considered her a "surrogate mother".
She also managed to raise two children of her own and was devoted to her husband Bob Nichols and her three grandchildren. By the time she died at the age of 84 in the home she shared with her husband in Vermont she was considered a literary giant and a national treasure for generations of fans and followers.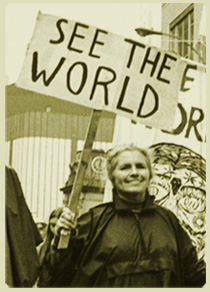 "I'm grateful to Grace for taking seriously in her writing and her politics the lives of women at a time when it wasn't done, Grace did it."
– Melanie Kaye Kantrowitz,
Jews for Racial & Economic Justice